LEADING GRACEFULLY
A Woman's Guide to Confident, Authentic and Effective Leadership
In 2016, women still hold a shockingly low 14% of top executive positions in the Fortune 500. Trying to get ahead while operating in a man's world, women continue to face immense challenges, constantly being told how to navigate these treacherous waters in a myriad of ways. Yet the gender gap persists.
While working for a tech giant in Silicon Valley, the Monique was faced with a tough decision—should she lead like her male counterparts or try a different approach? This choice gained her unique insights into how women can break through gender bias and become far more effective as leaders, while helping close the gender gap.
In Leading Gracefully, Women's Leadership expert and executive coach, Monique Tallon, presents neuroscience research that tells us that women's brains are wired for empathy, intuition and collaboration, the same qualities people are looking for in their leaders today. Through her extensive research, she has developed a visionary roadmap called The Feminine Leadership Model™ that plays squarely to women's strengths.
Whether you are a senior level executive, a mid‐career manager or just starting out, Leading Gracefully is a must‐read for women who want to get to the next level in their career and life. Through personal stories and those of female executives and entrepreneurs from the world of technology, science, retail and non‐profits, you will learn how to successfully use 'feminine' strengths combined with traditional traits to breakthrough gender bias. Use it as self‐coaching 'how‐to' guide, with 15 powerful exercises, tips and resources you can apply right away to gain more confidence, authenticity and effectiveness.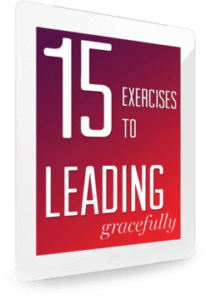 This hands-on workbook is designed as a supplement to Leading Gracefully with the 15  powerful exercises featured in the book.  It gives you  space to capture your reflections, journal and write down notes which will take your learning to the next level. Created to help you dive deeper with the Feminine Leadership Model™ featured in Leading Gracefully, you can download this workbook for FREE and start your journey to become more confident, authentic and effective in your life and career! Valued at $197.
Enter your email address to gain instant access to the FREE Workbook!